In this post, we will solve HackerRank The Time in Words Problem Solution.
Given the time in numerals we may convert it into words, as shown below:
5:00 five o'clock
5:01 → one minute past five
5:10 ten minutes past five
5:15→ quarter past five
5:30half past five
5:40 twenty minutes to six
5:45 quarter to six –
5:47 thirteen minutes to six
5:28 twenty eight minutes past five
At minutes = 0, use o' clock. For 1 ≤ minutes ≤ 30, use past, and for 30 < minutes
use to. Note the space between the apostrophe and clock in o' clock. Write a program
which prints the time in words for the input given in the format described.
Function Description
Complete the timeInWords function in the editor below.
timeInWords has the following parameter(s):
int h: the hour of the day
int m: the minutes after the hour
Returns
string: a time string as described
Input Format
The first line contains ,h the hours portion The second line contains m, the minutes portion.
Sample Input 0
5
47

Sample Output 0
thirteen minutes to six

Sample Input 1
3
00

Sample Output 1
three o' clock

Sample Input 2
7
15

Sample Output 2
quarter past seven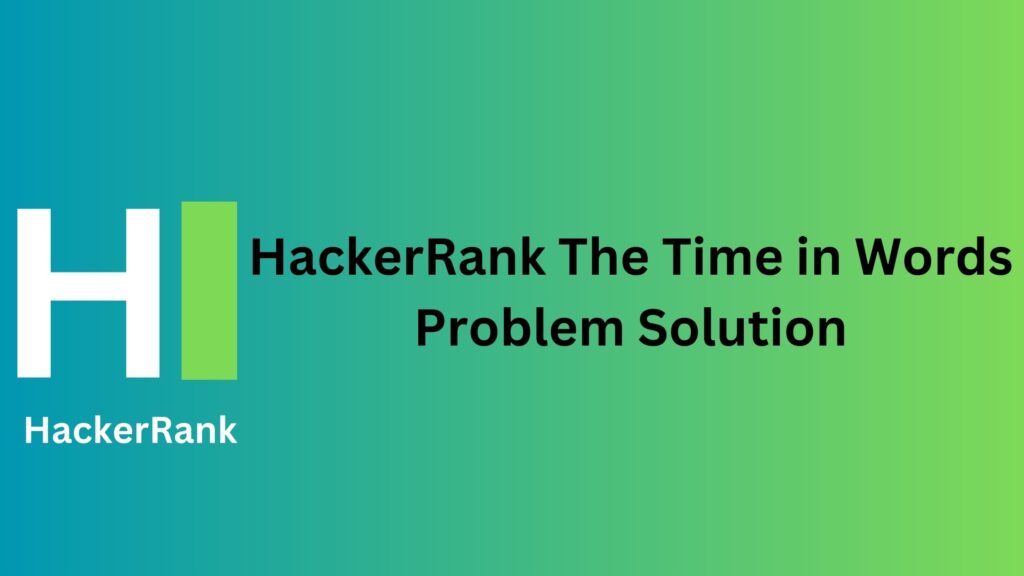 The Time in Words C Solution
#

include

 

<

stdio.h

>




#

include

 

<

string.h

>




#

include

 

<

math.h

>




#

include

 

<

stdlib.h

>




#

include

 

<

time.h

>





int

 

main

()

 

{




	




	

char

 string

[

31

][

13

]

;




	




	

strncpy

 

(

string

[

0

],

 

"

o' clock 

"

,

 

13

)

;




	

strncpy

 

(

string

[

1

],

 

"

one 

"

,

 

13

)

;




    

strncpy

 

(

string

[

2

],

 

"

two 

"

,

 

13

)

;




    

strncpy

 

(

string

[

3

],

 

"

three 

"

,

 

13

)

;




    

strncpy

 

(

string

[

4

],

 

"

four 

"

,

 

13

)

;




    

strncpy

 

(

string

[

5

],

 

"

five 

"

,

 

13

)

;




    

strncpy

 

(

string

[

6

],

 

"

six 

"

,

 

13

)

;




    

strncpy

 

(

string

[

7

],

 

"

seven 

"

,

 

13

)

;




    

strncpy

 

(

string

[

8

],

 

"

eight 

"

,

 

13

)

;




    

strncpy

 

(

string

[

9

],

 

"

nine 

"

,

 

13

)

;




    

strncpy

 

(

string

[

10

],

 

"

ten 

"

,

 

13

)

;




    

strncpy

 

(

string

[

11

],

 

"

eleven 

"

,

 

13

)

;




    

strncpy

 

(

string

[

12

],

 

"

twelve 

"

,

 

13

)

;




    

strncpy

 

(

string

[

13

],

 

"

thirteen 

"

,

 

13

)

;




    

strncpy

 

(

string

[

14

],

 

"

fourteen 

"

,

 

13

)

;




    

strncpy

 

(

string

[

15

],

 

"

quarter 

"

,

 

13

)

;




    

strncpy

 

(

string

[

16

],

 

"

sixteen 

"

,

 

13

)

;




    

strncpy

 

(

string

[

17

],

 

"

seventeen 

"

,

 

13

)

;




    

strncpy

 

(

string

[

18

],

 

"

eighteen 

"

,

 

13

)

;




    

strncpy

 

(

string

[

19

],

 

"

nineteen 

"

,

 

13

)

;




    

strncpy

 

(

string

[

20

],

 

"

twenty 

"

,

 

13

)

;




    

strncpy

 

(

string

[

21

],

 

"

twenty one 

"

,

 

13

)

;




    

strncpy

 

(

string

[

22

],

 

"

twenty two 

"

,

 

13

)

;




    

strncpy

 

(

string

[

23

],

 

"

twenty three 

"

,

 

13

)

;




    

strncpy

 

(

string

[

24

],

 

"

twenty four 

"

,

 

13

)

;




    

strncpy

 

(

string

[

25

],

 

"

twenty five 

"

,

 

13

)

;




    

strncpy

 

(

string

[

26

],

 

"

twenty six 

"

,

 

13

)

;




    

strncpy

 

(

string

[

27

],

 

"

twenty seven 

"

,

 

13

)

;




    

strncpy

 

(

string

[

28

],

 

"

twenty eight 

"

,

 

13

)

;




    

strncpy

 

(

string

[

29

],

 

"

twenty nine 

"

,

 

13

)

;




    

strncpy

 

(

string

[

30

],

 

"

half 

"

,

 

13

)

;




    




    

int

 H

,

 M

;




    

scanf

(

"

%d

"

,

 

&

H

)

;




    

scanf

(

"

%d

"

,

 

&

M

)

;




    




    

if

 

(

M 

==

 

0

)

 

{




		

printf

(

"

%s

"

,

 string

[

H

])

;




		

printf

(

"

%s

"

,

 string

[

M

])

;




    

}




    

else

 

if

 

(

M 

==

 

1

)

 

{




    	

printf

(

"

%sminute past 

"

,

 string

[

M

])

;




		

printf

(

"

%s

"

,

 string

[

H

])

;




	

}




    

else

 

if

 

((

M 

>

 

1

)

 

&&

 

(

M 

<

 

14

))

 

{




    	

printf

(

"

%sminutes past 

"

,

 string

[

M

])

;




		

printf

(

"

%s

"

,

 string

[

H

])

;




	

}




	

else

 

if

 

((

M 

>

 

15

)

 

&&

 

(

M 

<

 

30

))

 

{




    	

printf

(

"

%sminutes past 

"

,

 string

[

M

])

;




		

printf

(

"

%s

"

,

 string

[

H

])

;




	

}




	

else

 

if

 

(

M 

==

 

15

)

 

{




    	

printf

(

"

%spast 

"

,

 string

[

M

])

;




		

printf

(

"

%s

"

,

 string

[

H

])

;




	

}




	

else

 

if

 

(

M 

==

 

30

)

 

{




    	

printf

(

"

%spast 

"

,

 string

[

M

])

;




		

printf

(

"

%s

"

,

 string

[

H

])

;




	

}




	

else

 

if

 

((

M 

>

 

30

)

 

&&

 

(

M 

<

 

44

))

 

{




    	

printf

(

"

%sminutes to 

"

,

 string

[

60

 

-

 M

])

;




		

printf

(

"

%s

"

,

 string

[

H 

+

 

1

])

;




	

}




	

else

 

if

 

((

M 

>

 

45

)

 

&&

 

(

M 

<

 

59

))

 

{




    	

printf

(

"

%sminutes to 

"

,

 string

[

60

 

-

 M

])

;




		

printf

(

"

%s

"

,

 string

[

H 

+

 

1

])

;




	

}




	

else

 

if

 

(

M 

==

 

45

)

 

{




    	

printf

(

"

%sto 

"

,

 string

[

60

 

-

 M

])

;




		

printf

(

"

%s

"

,

 string

[

H 

+

 

1

])

;




	

}




	

else

 

if

 

(

M 

==

 

59

)

 

{




    	

printf

(

"

%sminute 

"

,

 string

[

60

 

-

 M

])

;




		

printf

(

"

%s

"

,

 string

[

H 

+

 

1

])

;




	

}




	




    

return

 

0

;




}
The Time in Words C++ Solution
#

include

 

<

cmath

>




#

include

 

<

cstdio

>




#

include

 

<

vector

>




#

include

 

<

iostream

>




#

include

 

<

algorithm

>




#

include

 

<

map

>




using

 

namespace

 std

;






int

 

main

()

 

{




  

int

 h

,

 m

;




  cin 

>>

 h 

>>

 m

;





  map

<int

,

 string

>

 num 

{

 

{

1

,

 

"

one

"

},

 

{

2

,

 

"

two

"

},

 

{

3

,

 

"

three

"

},

 

{

4

,

 

"

four

"

},

 

{

5

,

 

"

five

"

},

 

{

6

,

 

"

six

"

},

 

{

7

,

 

"

seven

"

},

 

{

8

,

 

"

eight

"

},

 

{

9

,

 

"

nine

"

},

 

{

10

,

 

"

ten

"

},

 

{

11

,

 

"

eleven

"

},

 

{

12

,

 

"

twelve

"

},

 

{

13

,

 

"

thirteen

"

},

 

{

14

,

 

"

fourteen

"

},

 

{

15

,

 

"

fifteen

"

},

 

{

16

,

 

"

sixteen

"

},

 

{

17

,

 

"

seventeen

"

},

 

{

18

,

 

"

eighteen

"

},

 

{

19

,

 

"

nineteen

"

},

 

{

20

,

 

"

twenty

"

}

 

}

;





  

switch

(

m

)

 

{




  

case

 

0

:




    cout 

<<

 

num

[

h

]

 

<<

 

"

 o' clock

"

;




    

break;




  

case

 

1

:

 




    cout 

<<

 

num

[

m

]

 

<<

 

"

 minute past 

"

 

<<

 

num

[

h

]

;




    

break;




  

case

 

2

:

 

case

 

3

:

 

case

 

4

:

 

case

 

5

:

 

case

 

6

:

 

case

 

7

:

 

case

 

8

:

 

case

 

9

:

 

case

 

10

:




    cout 

<<

 

num

[

m

]

 

<<

 

"

 minutes past 

"

 

<<

 

num

[

h

]

;




    

break;




  

case

 

11

:

 

case

 

12

:

 

case

 

13

:

 

case

 

14

:

 

case

 

16

:

 

case

 

17

:

 

case

 

18

:

 

case

 

19

:

 

case

 

20

:




    cout 

<<

 

num

[

m

]

 

<<

 

"

 minutes past 

"

 

<<

 

num

[

h

]

;




    

break;




  

case

 

15

:




    cout 

<<

 

"

quarter past 

"

 

<<

 

num

[

h

]

;




    

break;




  

case

 

21

:

 

case

 

22

:

 

case

 

23

:

 

case

 

24

:

 

case

 

25

:

 

case

 

26

:

 

case

 

27

:

 

case

 

28

:

 

case

 

29

:




    cout 

<<

 

"

twenty 

"

 

<<

 

num

[

m

-

20

]

 

<<

 

"

 minutes past 

"

 

<<

 

num

[

h

]

;




    

break;




  

case

 

30

:




    cout 

<<

 

"

half past 

"

 

<<

 

num

[

h

]

;




    

break;




  

case

 

31

:

 

case

 

32

:

 

case

 

33

:

 

case

 

34

:

 

case

 

35

:

 

case

 

36

:

 

case

 

37

:

 

case

 

38

:

 

case

 

39

:




    cout 

<<

 

"

twenty 

"

 

<<

 

num

[

40

-

m

]

 

<<

 

"

 minutes to 

"

 

<<

 

num

[

h

+

1

]

;




    

break;




  

case

 

40

:




    cout 

<<

 

"

twenty minutes to 

"

 

<<

 

num

[

h

+

1

]

;




    

break;




  

case

 

45

:




    cout 

<<

 

"

quarter to 

"

 

<<

 

num

[

h

+

1

]

;




    

break;




  

case

 

41

:

 

case

 

42

:

 

case

 

43

:

 

case

 

44

:

 

case

 

46

:

 

case

 

47

:

 

case

 

48

:

 

case

 

49

:




  

case

 

51

:

 

case

 

52

:

 

case

 

53

:

 

case

 

54

:

 

case

 

55

:

 

case

 

56

:

 

case

 

57

:

 

case

 

58

:

 

case

 

59

:




    cout 

<<

 

num

[

60

-

m

]

 

<<

 

"

 minutes to 

"

 

<<

 

num

[

h

+

1

]

;




    

break;




  

default

:

 




    cout 

<<

 

"

TODO

"

;





  

}





  

return

 

0

;




}
The Time in Words C Sharp Solution
using

 System

;




using

 System.Collections.Generic

;




using

 System.IO

;




class

 

Solution

 

{




    




    

static

 

string

 

numberToWords

(

int

 n

){




        

switch

 

(

n

)




        

{




            

case

 

1

:




            

return

 

"

one

"

;




            

break;




            

case

 

2

:




            

return

 

"

two

"

;




            

break;




            

case

 

3

:




            

return

 

"

three

"

;




            

break;




            

case

 

4

:




            

return

 

"

four

"

;




            

break;




            

case

 

5

:




            

return

 

"

five

"

;




            

break;




            

case

 

6

:




            

return

 

"

six

"

;




            

break;




            

case

 

7

:




            

return

 

"

seven

"

;




            

break;




            

case

 

8

:




            

return

 

"

eight

"

;




            

break;




            

case

 

9

:




            

return

 

"

nine

"

;




            

break;




            

case

 

10

:




            

return

 

"

ten

"

;




            

break;




            

case

 

11

:




            

return

 

"

eleven

"

;




            

break;




            

case

 

12

:




            

return

 

"

twelve

"

;




            

break;




            

case

 

13

:




            

return

 

"

thirteen

"

;




            

break;




            

case

 

14

:




            

return

 

"

fourteen

"

;




            

break;




            

case

 

15

:




            

return

 

"

quarter

"

;




            

break;




            

case

 

16

:




            

return

 

"

sixteen

"

;




            

break;




            

case

 

17

:




            

return

 

"

seventeen

"

;




            

break;




            

case

 

18

:




            

return

 

"

eighteen

"

;




            

break;




            

case

 

19

:




            

return

 

"

nineteen

"

;




            

break;




            

case

 

20

:




            

return

 

"

twenty

"

;




            

break;




            

case

 

21

:




            

return

 

"

twenty one

"

;




            

break;




            

case

 

22

:




            

return

 

"

twenty two

"

;




            

break;




            

case

 

23

:




            

return

 

"

twenty three

"

;




            

break;




            

case

 

24

:




            

return

 

"

twenty four

"

;




            

break;




            

case

 

25

:




            

return

 

"

twenty five

"

;




            

break;




            

case

 

26

:




            

return

 

"

twenty six

"

;




            

break;




            

case

 

27

:




            

return

 

"

twenty seven

"

;




            

break;




            

case

 

28

:




            

return

 

"

twenty eight

"

;




            

break;




            

case

 

29

:




            

return

 

"

twenty nine

"

;




            

break;




            

default

:




            

return

 

"

zero

"

;




            

break;




        

}




    

}




    

static

 

void

 

Main

(

String

[]

 args

)

 

{




        

int

 hour 

=

 

Convert

.

ToInt32

(

Console

.

ReadLine

())

;




        

int

 minute 

=

 

Convert

.

ToInt32

(

Console

.

ReadLine

())

;




        

if

 

(

minute

 

==

 

0

){




            

Console

.

WriteLine

(

numberToWords

(

hour

)

+

"

 o' clock

"

)

;




        

}

 

else

 

if

 

(

minute

 

==

 

1

){




            

Console

.

WriteLine

(

"

one minute past 

"

+

numberToWords

(

hour

))

;




        

}

 

else

 

if

 

(

minute

 

==

 

15

){




            

Console

.

WriteLine

(

"

quarter past 

"

+

numberToWords

(

hour

))

;




        

}

 

else

 

if

 

(

minute

 

<

 

30

){




            

Console

.

WriteLine

(

numberToWords

(

minute

)

+

"

 minutes past 

"

+

numberToWords

(

hour

))

;




        

}

 

else

 

if

 

(

minute

 

==

 

30

){




            

Console

.

WriteLine

(

"

half past 

"

+

numberToWords

(

hour

))

;




        

}

 

else

 

if

 

(

minute

 

==

 

45

){




            

Console

.

WriteLine

(

"

quarter to 

"

+

numberToWords

(

hour

+

1

))

;




        

}

 

else

 

{




            

Console

.

WriteLine

(

numberToWords

(

60

 

-

 

minute

)

+

"

 minutes to 

"

+

 

numberToWords

(

hour

+

1

))

;




        

}




        

//TODO (1 minute (without s) to hour), (quarter past)?




    

}




}
The Time in Words Java Solution
import

 

java

.

io

.

*;




import

 

java

.

math

.

*;




import

 

java

.

security

.

*;




import

 

java

.

text

.

*;




import

 

java

.

util

.

*;




import

 

java

.

util

.

concurrent

.

*;




import

 

java

.

util

.

function

.

*;




import

 

java

.

util

.

regex

.

*;




import

 

java

.

util

.

stream

.

*;




import

 

static

 

java

.

util

.

stream

.

Collectors

.

joining

;




import

 

static

 

java

.

util

.

stream

.

Collectors

.

toList

;





class

 

Result

 

{





    

/*




     * Complete the 'timeInWords' function below.




     *




     * The function is expected to return a STRING.




     * The function accepts following parameters:




     *  1. INTEGER h




     *  2. INTEGER m




     */





    

public

 

static

 

class

 

Number

{




        

String

 

str

;




        

int

 

num

;




        

public

 

Number

(

String

 

s

,

 

int

 

n

)

 

{




            

this

.

str

 

=

 s

;




            

this

.

num

 

=

 n

;




   

}




    

}




    

public

 

static

 

String

 

timeInWords

(

int

 

h

,

 

int

 

m

)

 

{




    

// Write your code here




    

Number

 

options

[]

 

=

 

new

 

Number

[

20

]

;




    

Number

 

one

 

=

 

new

 

Number

(

"

one

"

,

 

1

)

;




    options

[

0

]

 

=

 one

;




    

Number

 

two

 

=

 

new

 

Number

(

"

two

"

,

 

2

)

;




    options

[

1

]

 

=

 two

;




    

Number

 

three

 

=

 

new

 

Number

(

"

three

"

,

 

3

)

;




    options

[

2

]

 

=

 three

;




    

Number

 

four

 

=

 

new

 

Number

(

"

four

"

,

 

4

)

;




    options

[

3

]

 

=

 four

;




    

Number

 

five

 

=

 

new

 

Number

(

"

five

"

,

 

5

)

;




    options

[

4

]

 

=

 five

;




    

Number

 

six

 

=

 

new

 

Number

(

"

six

"

,

 

6

)

;




    options

[

5

]

 

=

 six

;




    

Number

 

seven

 

=

 

new

 

Number

(

"

seven

"

,

 

7

)

;




    options

[

6

]

 

=

 seven

;




    

Number

 

eight

 

=

 

new

 

Number

(

"

eight

"

,

 

8

)

;




    options

[

7

]

 

=

 eight

;




    

Number

 

nine

 

=

 

new

 

Number

(

"

nine

"

,

 

9

)

;




    options

[

8

]

 

=

 nine

;




    

Number

 

ten

 

=

 

new

 

Number

(

"

ten

"

,

 

10

)

;




    options

[

9

]

 

=

 ten

;




    

Number

 

eleven

 

=

 

new

 

Number

(

"

eleven

"

,

 

11

)

;




    options

[

10

]

 

=

 eleven

;




    

Number

 

twelve

 

=

 

new

 

Number

(

"

twelve

"

,

 

12

)

;




    options

[

11

]

 

=

 twelve

;




    

Number

 

thirteen

 

=

 

new

 

Number

(

"

thirteen

"

,

 

13

)

;




    options

[

12

]

 

=

 thirteen

;




    

Number

 

fourteen

 

=

 

new

 

Number

(

"

fourteen

"

,

 

14

)

;




    options

[

13

]

 

=

 fourteen

;




    

Number

 

fifteen

 

=

 

new

 

Number

(

"

fifteen

"

,

 

15

)

;




    options

[

14

]

 

=

 fifteen

;




    

Number

 

sixteen

 

=

 

new

 

Number

(

"

sixteen

"

,

 

16

)

;




    options

[

15

]

 

=

 sixteen

;




    

Number

 

seventeen

 

=

 

new

 

Number

(

"

seventeen

"

,

 

17

)

;




    options

[

16

]

 

=

 seventeen

;




    

Number

 

eighteen

 

=

 

new

 

Number

(

"

eighteen

"

,

 

18

)

;




    options

[

17

]

 

=

 eighteen

;




    

Number

 

nineteen

 

=

 

new

 

Number

(

"

nineteen

"

,

 

19

)

;




    options

[

18

]

 

=

 nineteen

;




    

Number

 

twenty

 

=

 

new

 

Number

(

"

twenty

"

,

 

20

)

;




    options

[

19

]

 

=

 twenty

;




    




    




    




    




    

if

(

m 

<

 

30

){




        

String

 

hour

 

=

 

"

 

"

;




        

String

 

minute

 

=

 

"

 

"

;




        

for

(

int

 

i

 

=

 

0

;

 i 

<

 

12

;

 i

++

){




            

if

(

options

[

i

].

num

 

==

 h

){




                hour 

=

 options

[

i

].

str

;




            

}




        

}




        

if

(

m 

==

 

15

){




            

return

 

(

"

quarter past 

"

 

+

 hour

)

;




        

}




        

if

(

m 

==

 

0

){




            

return

(

hour 

+

 

"

 o' clock

"

)

;




        

}




        

if

(

m 

==

 

20

){




            

return

(

"

twenty minutes past 

"

 

+

 hour

)

;




        

}




        

if

(

m 

>

 

20

){




            

int

 

holder

 

=

 m 

-

20

;




            

for

(

int

 

i

 

=

 

0

;

 i 

<

 

9

;

 i

++

){




                

if

(

options

[

i

].

num

 

==

 holder

){




                    

return

(

"

twenty 

"

 

+

 options

[

i

].

str

 

+

 

"

 minutes past 

"

 

+

 hour

)

;




                

}




            

}




        

}




        

for

(

int

 

i

 

=

 

0

;

 i 

<

 

18

;

 i

++

){




            

if

(

options

[

i

].

num

 

==

 m

){




                minute 

=

 options

[

i

].

str

;




            

}




        

}




        

if

(

minute

.

equals

(

"

one

"

)){




            

return

(

minute 

+

 

"

 minute past 

"

 

+

 hour

)

;




        

}




        

return

(

minute 

+

 

"

 minutes past 

"

 

+

 hour

)

;




    

}

 

else

 

if

(

m 

==

 

30

){




        

String

 

hour

 

=

 

"

 

"

;




        

for

(

int

 

i

 

=

 

0

;

 i 

<

 

12

;

 i

++

){




            

if

(

options

[

i

].

num

 

==

 h

){




                hour 

=

 options

[

i

].

str

;




            

}




        

}




        

return

(

"

half past 

"

 

+

 hour

)

;




        




        




        




        

}

else

 

{




        

String

 

hour

 

=

 

"

 

"

;




        

String

 

minute

 

=

 

"

 

"

;




        

for

(

int

 

i

 

=

 

0

;

 i 

<

 

12

;

 i

++

){




            

if

(

options

[

i

].

num

 

==

 h

){




                hour 

=

 options

[

i 

+

 

1

].

str

;




                

if

(

i 

==

 

11

){




                    hour 

=

 

"

one

"

;




                

}




            

}




        

}




        

if

(

m 

==

 

45

){




            

return

(

"

quarter to 

"

 

+

 hour

)

;




        

}




        

if

(

m 

==

 

40

){




            

return

(

"

twenty minutes to 

"

 

+

 hour

)

;




        

}




        

int

 

min

 

=

 

60

 

-

 m

;




       

if

(

min 

>

 

20

){




           

int

 

holder

 

=

 min 

-

20

;




            

for

(

int

 

i

 

=

 

0

;

 i 

<

 

9

;

 i

++

){




                

if

(

options

[

i

].

num

 

==

 holder

){




                    

return

(

"

twenty 

"

 

+

 options

[

i

].

str

 

+

 

"

 minutes to 

"

 

+

 hour

)

;




                

}




            

}




        

}




        

for

(

int

 

i

 

=

 

0

;

 i 

<

 

18

;

 i

++

){




            

if

(

options

[

i

].

num

 

==

 min

){




                minute 

=

 options

[

i

].

str

;




            

}




        

}




        

if

(

minute

.

equals

(

"

one

"

)){




            

return

(

minute 

+

 

"

 minute to 

"

 

+

 hour

)

;




        

}




        

return

(

minute 

+

 

"

 minutes to 

"

 

+

 hour

)

;




    

}




   

// return("end");




        




    

}





}





public

 

class

 

Solution

 

{




    

public

 

static

 

void

 

main

(

String

[]

 

args

)

 

throws

 

IOException

 

{




        

BufferedReader

 

bufferedReader

 

=

 

new

 

BufferedReader

(

new

 

InputStreamReader

(

System

.

in

))

;




        

BufferedWriter

 

bufferedWriter

 

=

 

new

 

BufferedWriter

(

new

 

FileWriter

(

System

.

getenv

(

"

OUTPUT_PATH

"

)))

;





        

int

 

h

 

=

 

Integer

.

parseInt

(

bufferedReader

.

readLine

().

trim

())

;





        

int

 

m

 

=

 

Integer

.

parseInt

(

bufferedReader

.

readLine

().

trim

())

;





        

String

 

result

 

=

 

Result

.

timeInWords

(

h

,

 m

)

;





        

bufferedWriter

.

write

(

result

)

;




        

bufferedWriter

.

newLine

()

;





        

bufferedReader

.

close

()

;




        

bufferedWriter

.

close

()

;




    

}




}
The Time in Words JavaScript Solution
function

 

processData

(

input

)

 

{




    

//Enter your code here




    

var

 

nums

 

=

 

input

.

split

(

'

\n

'

)

;




    

var

 

hour

 

=

 

parseInt

(

nums

[

0

])

;




    

var

 

minute

 

=

 

parseInt

(

nums

[

1

])

;




    

var

 

desc

 

=

 

''

;




    

var

 

s

 

=

 

''

;




    




    

if

(

minute

 

>

 

1

) 

{




        

s

 

=

 

'

s

'

;




    

}




    




    

var

 

sminute

 

=

 

numberToText

(

minute

)

;




        




    

if

(

minute

 

==

 

0

) 

{




        

desc

+=

 

an

[

hour

] 

+

 

'

 o

\'

 clock

'

;




    

}

else

 

if

(

minute

 

==

 

15

) 

{

    




        

desc

+=

 

'

quarter past 

'

+

 

an

[

hour

]

;




    

}

 

else

 

if

(

minute

 

>

 

0

 

&&

 

minute

 

<

 

30

) 

{




        

desc

+=

 

sminute

 

+

 

'

 minute

'

+

s

+

'

 past 

'

+

 

an

[

hour

]

;




    

}

 

else

 

if

(

minute

 

==

 

30

  )

{




        

desc

+=

 

'

half past 

'

+

 

an

[

hour

]

;




    

}

 

else

 

if

 (

minute

 

==

 

45

) 

{




        

desc

+=

 

'

quarter to 

'

+

 

an

[

hour

+

1

]

;




    

}

 

else

 

if

(

minute

 

>

 

30

) 

{




        

minute

 

=

 

60

-

minute

;




        

if

(

minute

 

>

 

1

) 

{




            

s

 

=

 

'

s

'

;




        

}




        

sminute

 

=

 

numberToText

(

minute

)

;




        

desc

+=

 

sminute

 

+

 

'

 minute

'

+

s

+

'

 to 

'

+

 

an

[

hour

+

1

]

;




    

}




    




    

console

.

log

(

desc

)

;




}

 





function

 

numberToText

(

minute

)

 

{




    

var

 

sminute

 

=

 

''

;




    

var

 

p

 

=

 

minute

.

toString

()

.

split

(

''

)

;




    




    

if

(

minute

 

<

 

10

 

||

 ( 

minute

 

>

 

10

 

&&

 

minute

 

<

 

20

 ))

{




        

sminute

 

=

 

an

[

minute

]




    

}

 

else

 

if

(

minute

 

%

 

10

 

==

 

0

)

{




        

sminute

 

=

 

am

[

parseInt

(

p

[

0

])]

;




    

}

 

else

 

if

(

minute

 

>

 

20

) 

{




        

sminute

 

=

 

am

[

parseInt

(

p

[

0

])]

;




        

sminute

 

+=

 

'

 

'

+

an

[

parseInt

(

p

[

1

])]

;




    

}




    

return

 

sminute

;




}







var

 

an

 

=

 

{

1

:

'

one

'

,

2

:

'

two

'

,

 

3

:

 

'

three

'

,

 

4

:

'

four

'

,

5

:

'

five

'

,

6

:

'

six

'

,

7

:

'

seven

'

,

8

:

'

eight

'

,

9

:

'

nine

'

,

10

:

'

ten

'

,

11

:

'

eleven

'

,

12

:

'

twelve

'

,




          

13

:

'

thirteen

'

,




          

14

:

'

fourteen

'

,




          

15

:

'

fifteen

'

,




          

16

:

'

sixteen

'

,




          

17

:

'

seventeen

'

,




          

18

:

'

eigthteen

'

,




          

19

:

'

nineteen

'




         

}

;




var

 

am

 

=

 

{

1

:

'

ten

'

,

2

:

'

twenty

'

,

 

3

:

 

'

thirty

'

,

 

4

:

'

forty

'

,

5

:

'

fifty

'

,

6

:

'

sixty

'

,

7

:

'

seventy

'

,

8

:

'

eighty

'

,

9

:

'

ninety

'

}

;







process

.

stdin

.

resume

()

;




process

.

stdin

.

setEncoding

(

"

ascii

"

)

;




_input

 

=

 

""

;




process

.

stdin

.

on

(

"

data

"

,

 

function

 

(

input

)

 

{




    

_input

 

+=

 

input

;




}

)

;





process

.

stdin

.

on

(

"

end

"

,

 

function

 

()

 

{




   

processData

(

_input

)

;




}

)

;
The Time in Words Python Solution
import

 os




import

 sys





def

 

getTime

(

 

hrs

,

 

mins

 

):




	numList 

=

 

[

	

'

zero

'

,

 

'

one

'

,

 

'

two

'

,

 

'

three

'

,

 

'

four

'

,

 

'

five

'

,

 

'

six

'

,

 

'

seven

'

,

 

'

eight

'

,

 

'

nine

'

,

 

'

ten

'

,

 

'

eleven

'

,

 

'

twelve

'

,

 

'

thirteen

'

,

 

'

fourteen

'

,

 

'

fifteen

'

,

 

'

sixteen

'

,

 

'

seventeen

'

,

 

'

eighteen

'

,

 

'

ninteen

'

,

 

'

twenty

'

,

 

'

twenty one

'

,

 

'

twenty two

'

,

 

'

twenty three

'

,

 

'

twenty four

'

,

 

'

twenty five

'

,

 

'

twenty six

'

,

 

'

twenty seven

'

,

 

'

twenty eight

'

,

 

'

twenty nine

'

 

]




	

if

 mins 

>

 

30

:




		hour 

=

 numList

[

 hrs 

+

 

1

 

]




	

else

:




		hour 

=

 numList

[

 hrs 

]





	

if

 mins 

==

 

0

:




		time 

=

 hour 

+

 

'

 o

\'

 clock

'





	

elif

 mins 

==

 

15

:




		time 

=

 

'

quarter past 

'

 

+

 hour





	

elif

 mins 

<

 

30

:




		time 

=

 numList

[

 mins 

]

 

+

 

'

 minutes past 

'

 

+

 hour





	

elif

 mins 

==

 

30

:




		time 

=

 

'

half past 

'

 

+

 hour





	

elif

 mins 

!=

 

45

:




		time 

=

 numList

[

 

60

 

-

 mins 

]

 

+

 

'

 minutes to 

'

 

+

 hour





	

else

:




		time 

=

 

'

quarter to 

'

 

+

 hour





	

print

(

 time 

)

;





def

 

main

():




	hours 

=

 

int

(

 

input

()

 

)




	minutes 

=

 

int

 

(

 

input

()

 

)




	

getTime

(

 hours

,

 minutes 

)





if

 __name__ 

==

 

"

__main__

"

:




	

main

()
other Solution